Original Swiss Aromatics
SKU: 3104-30ml
Regular price
Sale price
$31.00
Unit price
per
Sale
Currently out of stock
About Our Shingles Magic Essential Oil Blend
Herpes zoster usually effects older adults and people with  compromised immune systems. The virus is a strain of the Chicken Pox virus, so individuals who had Chicken Pox as  children already carry the virus and are more prone to developing Shingles. Outbreaks may last for several weeks and greatly compromise quality of life. The pain can leave the sufferer hypersensitized and any additional stimulation must be avoided. Even the most gentle oils, if used undiluted, can add to the existing misery.
Shingles is one of the areas where essential oil blends work like a charm. The most amazing testimonials are available on the success of this blend. *
What It Does
The treatment of Shingles (Herpes zoster) with essential oils is as successful as that of Herpes simplex. A notable difference is, however, that because of the pain and aggravation often involved with an outbreak of Shingles, the essential oils utilized need to be totally non-irritant and gentle on the skin.Which oils are used: A combination of equal parts of Ravintsara (Cinnamomum camphora) essential oil and Tamanu (Calophyllum inophyllum) fatty oil has become the standard treatment option for outbreaks of Shingles. Especially with elderly patients this treatment, more often than not, offers stunning relief from the excruciating pain and even more so offers renewed quality of life to patients living with the continuous threat of yet another painful outbreak. Experience has it that once a patient is able to successfully control an outbreak, the frequency and severity of subsequent outbreaks are reduced drastically. Ravintsara is the anti-viral agent within this blend and Calophyllum inophyllum has the unusual, but the highly valuable quality of stimulating phagocytosis. How the oil is used: The oil blend is applied directly on to the lesions. This can be done with a Q-tip or simply by dabbing a few drops onto the lesion with the finger. This is repeated frequently at the beginning of the treatment. (Doing this 4 or 5 times on the first day of treatment is fine).*
How To Use It
Cover the affected area generously 3-5 times daily. If necessary this blend can be used up to 10 times daily. Apply with a Q-tip onto the lesion.  Keep applying for 3 weeks, 1 times daily after symptoms have subsided. 
Be careful to avoid eye area. 
Ingredients
Ravintsara oil - antiviral, neurotonic, expectorant
Tamanu oil - antiinflammatory, antimicrobial, antiplatelet, anti-aging
Everlasting oil - cell-regenerating, antiinflammative, mucolytic, hepatotonic, analgesic
Chamomile German oil - antiinflammative, anti-allergic, liver regenerating, antiphlogistic
Chamomile Roman oil - spasmolytic, calming, analgesic
*These statements have not been evaluated by the FDA. This product does not intend to treat, diagnose, cure, or prevent any disease. If you're pregnant, breastfeeding, or on any medications, please consult with a qualified health professional before beginning any new herbal products.
Share
View full details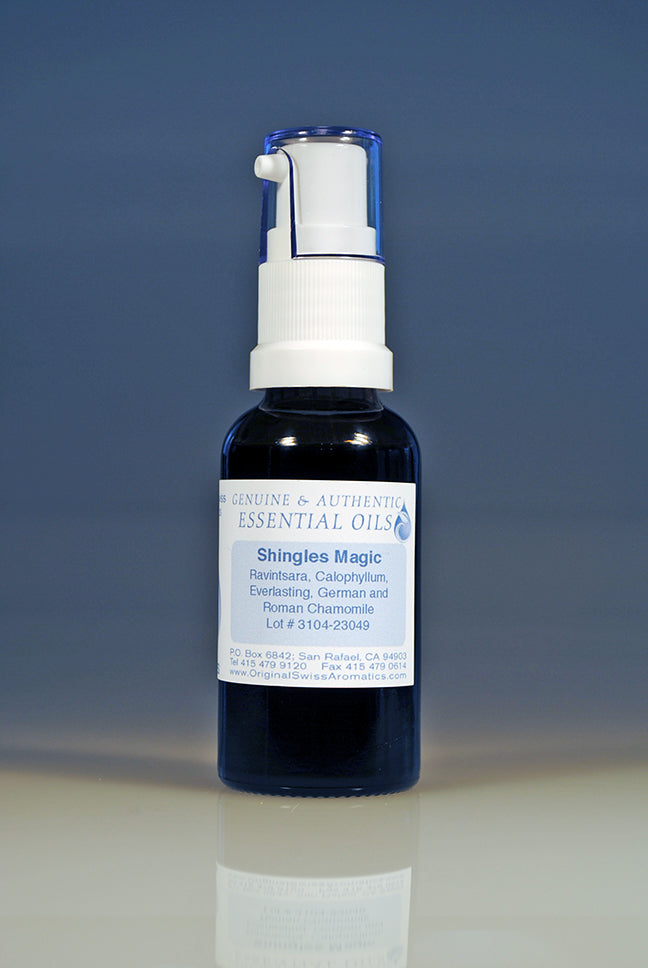 Authentic Essential Oils from the Producer
Highlights

We will offer essential oils which, to the best of our abilities to ascertain, are truly genuine and authentic. This means nothing has been added nor taken out.
40 Years of Genuine & Authentic Essential oils
Our essential oils stand apart with unparalleled purity, authenticity, and a commitment to preserving the true essence of nature's healing power.