Original Swiss Aromatics
SKU: 2037-5ml
Regular price
Sale price
$21.35
Unit price
per
Sale
Currently out of stock
About Our Deep Sleep Magic Extra Strength Essential Oil Blend
A holistic, natural cure for sleeplessness and anxiety with a higher percentage and stronger version of our Deep Sleep SKU2018.*
What It Does
A blend of highly relaxing oils to induce sleep and ease worries and tension. Sleeping disorders can lead to serious health issues if not addressed.  Many essential oils have a strong balancing effect on the Central Nervous System and take the 'edge' off without creating any dependencies. They actually retrain the system to calm down on its own.*
How To Use It
Depending on where you hold tension, apply 2-8 drops on neck, chest, temples or solar plexus 10 minutes prior to going to sleep.  Can be repeated during the night if sleep gets interrupted. 
Be careful to avoid eye area.
Ingredients
Lavandin oil - antiseptic, antiviral, relaxing
Ylang Ylang oil - calming, relaxing, anti-spasmodic, balances nervous and sexual systems, anaglgesic
Mandarian Petitgrain oil - anti-anxiety, relaxing, sedative
Roman Chamomile oil - spasmolytic, calming, analgesic
Hops oil - sedative, anti-inflammative, releases cramps
Bergamot oil - relaxing, mood enhancing, antiseptic
Spikenard oil - calming, relaxing, grounding
Valerian oil - sedative, anti-anxiety
Melissa oil - antiviral, anti-inflammative, calming, balances the nervous system
*These statements have not been evaluated by the FDA. This product does not intend to treat, diagnose, cure, or prevent any disease. If you're pregnant, breastfeeding, or on any medications, please consult with a qualified health professional before beginning any new herbal products.
Share
View full details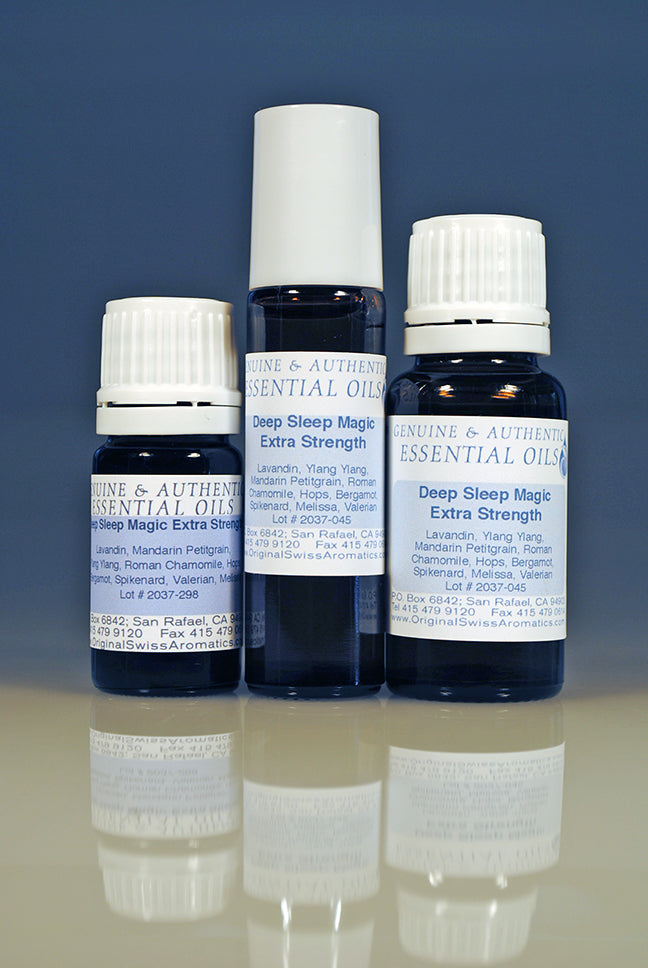 Authentic Essential Oils from the Producer
Highlights

We will offer essential oils which, to the best of our abilities to ascertain, are truly genuine and authentic. This means nothing has been added nor taken out.
40 Years of Genuine & Authentic Essential oils
Our essential oils stand apart with unparalleled purity, authenticity, and a commitment to preserving the true essence of nature's healing power.