Original Swiss Aromatics
SKU: 3119-10ml
Regular price
Sale price
$21.45
Unit price
per
Sale
Currently out of stock
About Our Acne Magic Essential Oil Blend
A natural, yet effective blend of antibacterial essential oils that helps detoxify and address acneic skin conditions. Perfect for hormonal, dietary or youth-related acne. Very gentle on the skin and safe for all skin types. *
What It Does
A proprietary combination of antiseptic, antimicrobial, and anti-inflammatory essential oils that eliminates acne-causing bacteria, liquifies hardened dermal fats and promotes healthy radiant skin. This specially-formulated blend supports detoxification, which is often a necessary step to achieving healthy skin.

How To Use It
Wash the face with a gentle cleanser. Apply Acne essential oil blend to the affected area 2-3 times daily. Only a small amount is needed per application.
Be careful to avoid the eye area.
Ingredients
Eucalyptus dives oil - mucolytic agent, antiviral, antibacterial
Rosemary verbenone oil - cell-regenerating, mucolytic, liver and gallbladder stimulant
Thyme linaloo oill - anti-microbial and antiseptic
Tea Tree oil - antiviral, antibacterial, antifungal, antiparasitic, immuno-stimulant
Spike Lavender oil - antiviral, mucolytic, cell-regenerating, anti-inflammative
Lavandin oil - antiseptic, antiviral, relaxing
*These statements have not been evaluated by the FDA. This product does not intend to treat, diagnose, cure, or prevent any disease. If you're pregnant, breastfeeding, or on any medications, please consult with a qualified health professional before beginning any new herbal products.
Share
View full details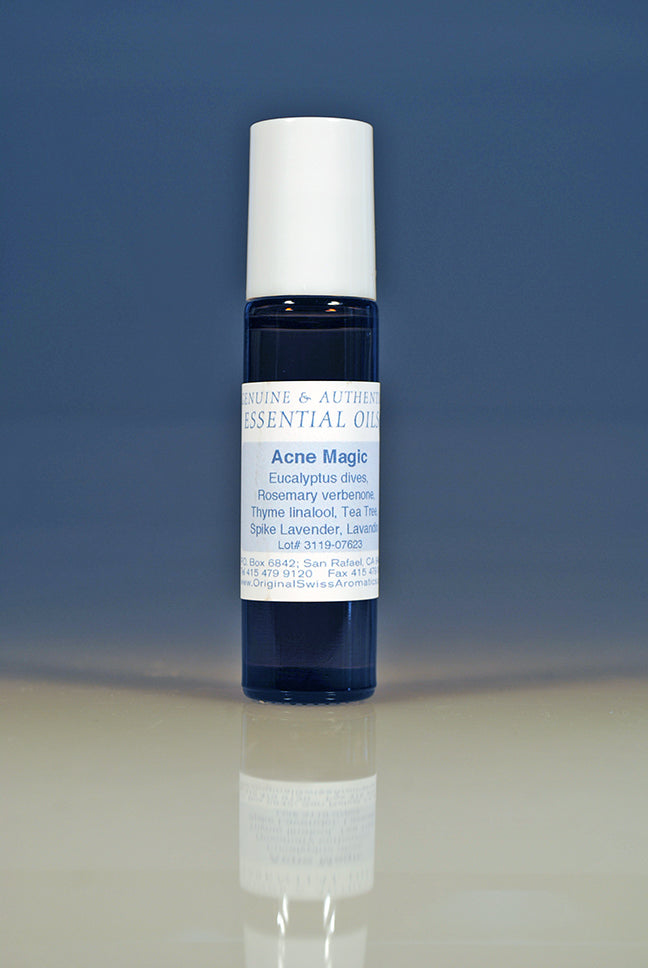 Authentic Essential Oils from the Producer
Highlights

We will offer essential oils which, to the best of our abilities to ascertain, are truly genuine and authentic. This means nothing has been added nor taken out.
40 Years of Genuine & Authentic Essential oils
Our essential oils stand apart with unparalleled purity, authenticity, and a commitment to preserving the true essence of nature's healing power.