Original Swiss Aromatics
SKU: 3031-10ml
Regular price
Sale price
$24.00
Unit price
per
Sale
Currently out of stock
About Our Relaxation Magic 2 Essential Oil Blend
Strong relaxation for acute and chronic tension and anxiety. Deep relaxation for the muscles and nerves.*
What It Does
An easy to use roll-on stick applies small amounts of a highly effective essential oil blend to the desired areas such as shoulders, neck, solar plexus, chest or the soles of the feet. Easy application with a roll-on stick, convenient for travels.*
How To Use It
Apply to neck and shoulders or where ever the tension is held, solar plexus, etc.
Be careful to avoid eye area. 
Ingredients 
Lavandin oil - antiseptic, antiviral, relaxing
Ylang Ylang oil - calming, relaxing, anti-spasmodic, balances nervous and sexual systems, analgesic
Chamomile Roman oil - spasmolytic, calming, analgesic
Bergamot oil - relaxing, mood enhancing, antiseptic
Clary Sage oil - calming, relaxing, anti-spasmodic, anti-fungal
Tarragon oil - spasmolytic, balances ANS, anti-inflammative, antiviral
*These statements have not been evaluated by the FDA. This product does not intend to treat, diagnose, cure, or prevent any disease. If you're pregnant, breastfeeding, or on any medications, please consult with a qualified health professional before beginning any new herbal products.
Share
View full details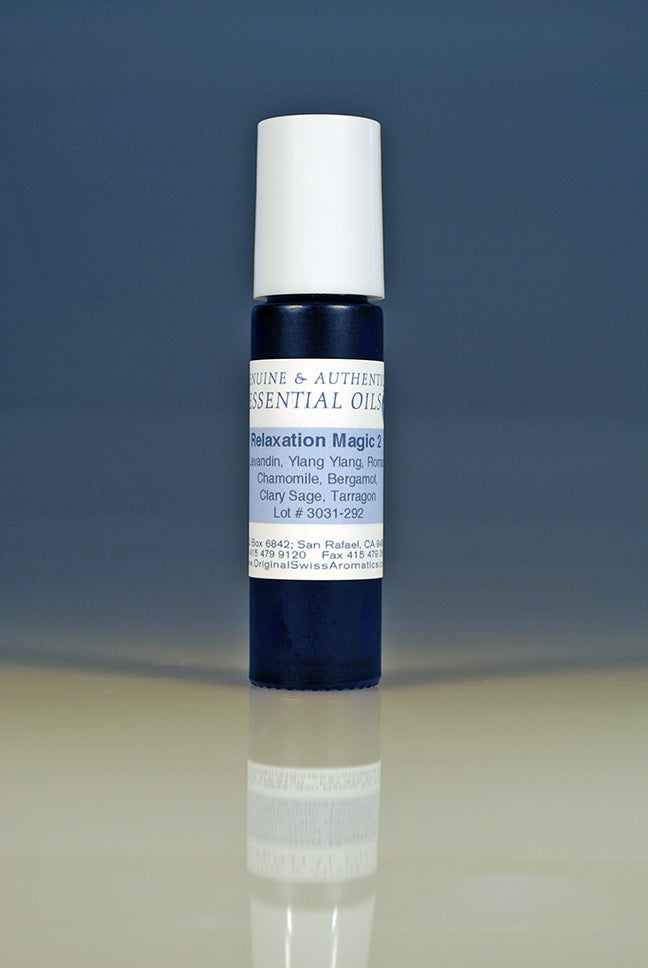 Authentic Essential Oils from the Producer
Highlights

We will offer essential oils which, to the best of our abilities to ascertain, are truly genuine and authentic. This means nothing has been added nor taken out.
40 Years of Genuine & Authentic Essential oils
Our essential oils stand apart with unparalleled purity, authenticity, and a commitment to preserving the true essence of nature's healing power.