Original Swiss Aromatics
SKU: 3125-10ml
Regular price
Sale price
$14.00
Unit price
per
Sale
Currently out of stock
About Our

 

Warts Magic Essential Oil Blend
Warts can be stubborn and the treatment might take several weeks or even months with caustic OTC treatments. The most effective essential oil used to address warts is Thuja (Thuja occidentalis), but alone this oil needs to be used with much caution because of its very high ketone (thujone) content. It can have a strong stimulating effect when undiluted. This is a trusted alternative wart removal option.
Thuja has been demonstrated to encourage the proinflammatory IL-6 cytokine. This is thought to be the action that makes Thuja effective as a wart remover. Most essential oils and blends work to discourage this IL-6 cytokine from inducing symptoms such as chronic inflammation. Other antiviral oils such as Ravintsara and Palmarosa are blended with Thuja to make our Warts Magic a much more gentle option trusted to eliminate warts and suppress the viruses known to cause them. This is a great of example of an Aromatherapy blend stimulating the activity of the immune system and supporting its important work.
For those who would prefer a more aggressive approach, we offer Warts Magic Extra Strength with a higher concentration of Thuja. 
What It Does
Thuja is one of the strongest agents against warts. Blended with other highly antiviral oils it will help to eliminate warts and regenerate the affected areas.*
How To Use It
Apply topically 2 - 3 times daily.
Be careful to avoid eye area. 
Ingredients
Thuja oil -  mucolytic, diuretic, dissolves warts
Ravintsara oil - antiviral, neurotonic, expectorant
Tea Tree oil - antiviral, antibacterial, antifungal, antiparasitic, immuno stimulant
Palmarosa oil - antiviral, antifungal, antibacterial
Niaouli oil - antibacterial, antiviral, antifungal, expectorant
*These statements have not been evaluated by the FDA. This product does not intend to treat, diagnose, cure, or prevent any disease. If you're pregnant, breastfeeding, or on any medications, please consult with a qualified health professional before beginning any new herbal products.
Share
View full details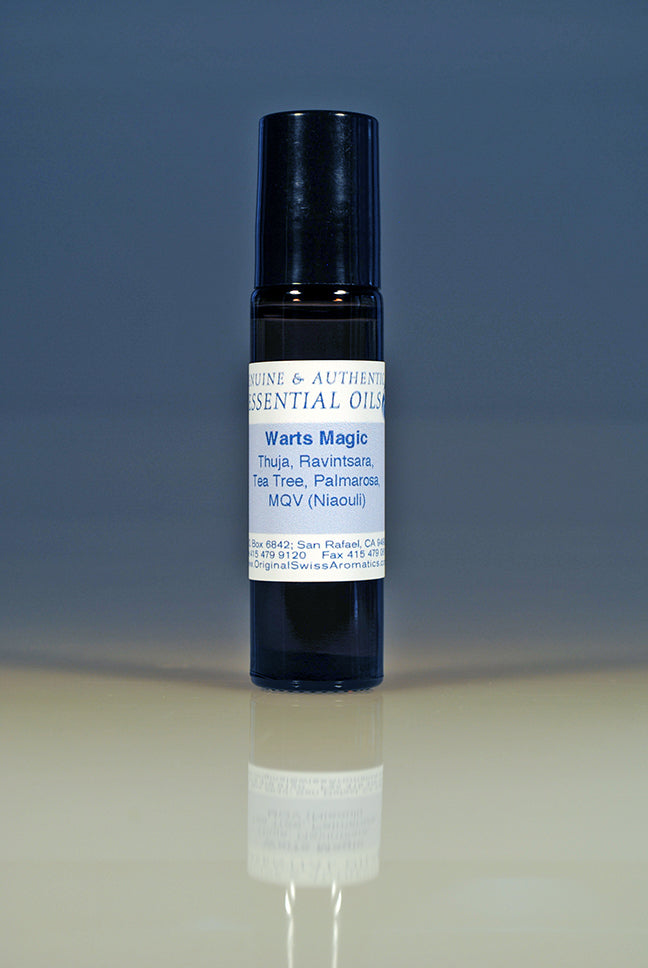 Authentic Essential Oils from the Producer
Highlights

We will offer essential oils which, to the best of our abilities to ascertain, are truly genuine and authentic. This means nothing has been added nor taken out.
40 Years of Genuine & Authentic Essential oils
Our essential oils stand apart with unparalleled purity, authenticity, and a commitment to preserving the true essence of nature's healing power.