Original Swiss Aromatics
SKU: 3131-15ml
Regular price
Sale price
$16.50
Unit price
per
Sale
Currently out of stock
About Our Shower Magic 2 Essential Oil Blend
Shower Magic 2 with its pronounced antiviral properties strengthens the body against many of the pathogens we encounter daily. It stimulates the immune system and is a noticeable support for depleted adrenals. When we are feeling exhausted it gives us a pleasant boost of energy. For that purpose Shower Magic 1 can also be applied to dry skin throughout the day.
General Information On Using Oils In The Shower
Some of the benefits of using essential oils in the shower include strengthening of the immune system, support in preventing viral and bacterial infection, regeneration of the body cells, stimulating lymphatic detoxification, balancing the nervous system, and enhancing moods and emotions.
While there will be times when one might crave the daily shower with Bay Laurel, for example, there will also be times when we simply forget and do this routine. This is the body's self regulating mechanism at work. A relaxed approach suits the immune system much more than continuously going through the same routine with a strict sense of duty.
Essential oils provide a fun and effective change towards better health through unique forms of application which straddle therapeutic and grooming. One of the most pleasant forms to strengthen immune response and to get sick less frequently is to use essential oils in the shower or in the bath. For the shower we choose oils which can be used undiluted, which under the circumstance is more pleasant than using a blend of EO in a base-oil. The absence of the fatty oil component gives the application of the oil on the wet skin a particular glistening, fast and effective character. The essential oil is absorbed into the skin tissue effectively. With many oils a characteristic and pleasant tingle will testify to that, however, after rinsing and toweling off, there is no reminiscent oil film.
How To Use It
The practice is very easy. Just apply 5 - 10 drops of the oils of choice to the wet body, giving special attention to the lymph passages, allow a few seconds for the oils to penetrate and, for the intrepid ones, ideally end your shower with a cold rinse. You will feel a flow of new energy that is, depending on the specific oil or blend, either invigorating, relaxing or both.
Shower Magic 2 can also be applied to the skin over the lymph nodes and spread from there over the whole body. This application, if done regularly, is one of aromatherapy's most humble, but at the same time most effective preventative measures.*
Unfamiliar how to use EO in the shower, read more here.
Ingredients
Lavandin oil - antiseptic, antiviral, relaxing
Bay Laurel oil - stimulates lymph flow, dissolves stagnation
Black Spruce oil - anti-infectious, antiviral, immunostimulant, mucolytic
Fir balsam oil - strengthening, balancing, antiviral, adrenal support
Palmarosa oil - antiviral, antifungal, broad spectrum of antibacterial activity
*These statements have not been evaluated by the FDA. This product does not intend to treat, diagnose, cure, or prevent any disease. If you're pregnant, breastfeeding, or on any medications, please consult with a qualified health professional before beginning any new herbal products.
Share
View full details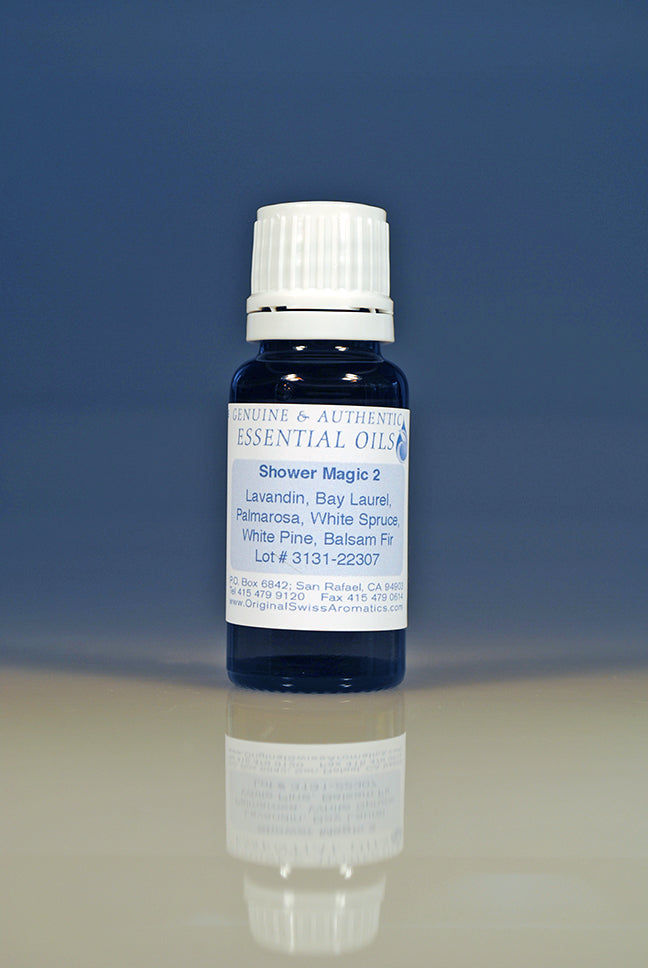 Authentic Essential Oils from the Producer
Highlights

We will offer essential oils which, to the best of our abilities to ascertain, are truly genuine and authentic. This means nothing has been added nor taken out.
40 Years of Genuine & Authentic Essential oils
Our essential oils stand apart with unparalleled purity, authenticity, and a commitment to preserving the true essence of nature's healing power.