Original Swiss Aromatics
SKU: 3129-100ml
Regular price
Sale price
$29.40
Unit price
per
Sale
Sold out
About Our Nerve Repair Magic Blend in Sesame See Oil
Fast relief for pain and tissue repair in cases of nerve damage due to accident or surgery, neuralgia and most nerve pain in Sesame Seed Oil for convenient  massage application. 
What It Does
This blend was formulated for a friend whose nerves were accidentally severed during surgery and left him in strong chronic pain. His pain started ceasing shortly after using the blend, and by the next day he was pain-free. He applied the blend before going to sleep, and the following morning he woke up without pain for the first time in 6 months. He shared the blend with another friend, whose shoulder injury had been causing her nerve pain for the last 10 years. Nerve Repair Magic helped her and many others the same way, so we decided to offer this blend as one of our Modern Magic Products, hoping it will bring relief to everybody experiencing nerve pain.*
How To Use It
Apply topically 2-5 times daily. 
Be careful to avoid eye area. 
Ingredients 
Everlasting oil - cell regenerating, anti-inflammative, mucolytic, hepatotonic, analgesic
Sage oil - expectorant, mucolytic, antibacterial, antiviral, cell regenerating
Sage petites feuilles oil - regenerates nerve cell tissue
Rosemary verbenone oil - cell-regenerating, mucolytic, liver and gallbladder stimulant
Tarragon oil - spasmolytic, balances ANS, anti-inflammative, antiviral
May Chang oil - Antiseptic, spasmolytic, calming, antiinflammative
Basil oil - relieves cramps, digestive tonic
Sesame Seed Oil organic cold pressed - Strongly moisturizing. Used in Ayurvedic medicine to counter inflammation. 
*These statements have not been evaluated by the FDA. This product does not intend to treat, diagnose, cure, or prevent any disease. If you're pregnant, breastfeeding, or on any medications, please consult with a qualified health professional before beginning any new herbal products.
Share
View full details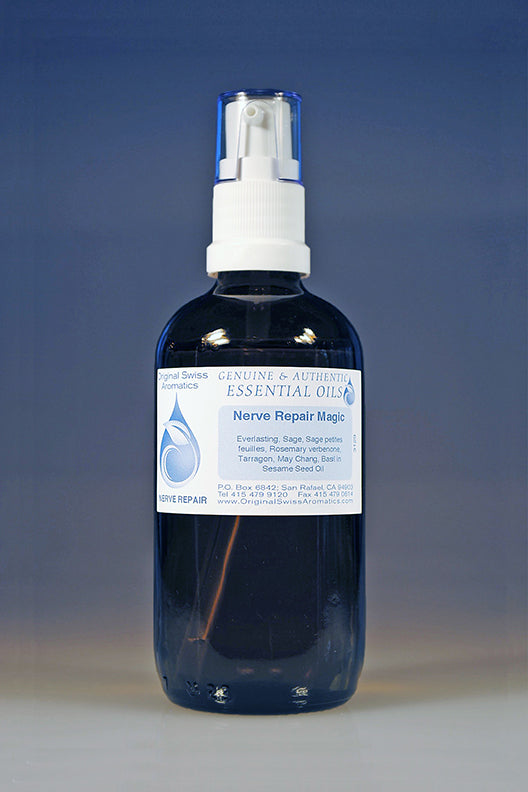 Authentic Essential Oils from the Producer
Highlights

We will offer essential oils which, to the best of our abilities to ascertain, are truly genuine and authentic. This means nothing has been added nor taken out.
40 Years of Genuine & Authentic Essential oils
Our essential oils stand apart with unparalleled purity, authenticity, and a commitment to preserving the true essence of nature's healing power.