Original Swiss Aromatics
SKU: 2020-100ml
Regular price
Sale price
$27.45
Unit price
per
Sale
Currently out of stock
About Our Pain Relief Magic Essential Oil Blend in Sesame Seed Oil
A potent, natural topical pain treatment that can replace conventional products in most cases. Blended with Sesame Seed Oil for easy massage application.*
What It Does
Through its wide spectrum of therapeutic activity, Pain Relief Magic addresses many conditions such as muscle injuries, headache, fibromyalgia, cramps. spasms, tension, and anxiety.*
How To Use It
Massage onto the painful areas as often as needed. Continue the application for two more days after the symptoms have subsided.
Be careful to avoid eye area. 
Ingredients 
Lavender oil - anti-inflammative, antiseptic, skin healing: wounds, sores, burns and more
Myrrh oil - analgesic, antiviral, anti-tumor, anti-fungal, tissue protectant
Wintergreen oil - analgesic, antiinflammative, releases cramps
Ylang Ylang oil - calming, relaxing, anti-spasmodic, balances nervous and sexual systems, analgesic
Tarragon oil - anti-spasmodic, balances the nervous system, analgesic
Marjoram oil - antibacterial, antiviral, neurotonic, hypotensive
Peppermint oil - antimicrobial, antibacterial, antispasmodic
Everlasting oil - cell regenerating, antiinflammative, mucolytic, hepatotonic, analgesic
German Chamomile oil - antiinflammative, anti-allergic, liver regenerating, antiphlogistic
Roman Chamomile oil - spasmolytic, calming, analgesic
Sesame Seed Oil organic cold pressed - Strongly moisturizing. Used in Ayurvedic medicine to counter inflammation.
*These statements have not been evaluated by the FDA. This product does not intend to treat, diagnose, cure, or prevent any disease. If you're pregnant, breastfeeding, or on any medications, please consult with a qualified health professional before beginning any new herbal products.
Share
View full details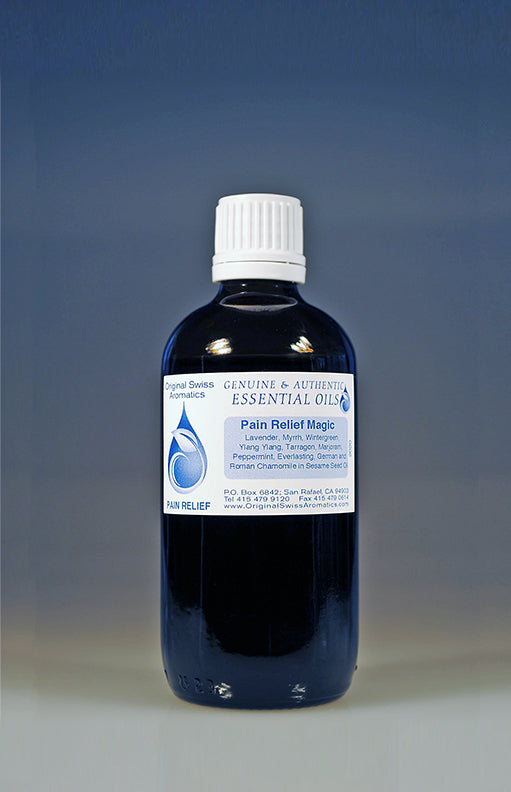 Authentic Essential Oils from the Producer
Highlights

We will offer essential oils which, to the best of our abilities to ascertain, are truly genuine and authentic. This means nothing has been added nor taken out.
40 Years of Genuine & Authentic Essential oils
Our essential oils stand apart with unparalleled purity, authenticity, and a commitment to preserving the true essence of nature's healing power.